4p- Logo Decal
Decals can be placed on a multitude of smooth surfaces, not just car windows!
Instructions for Applying Vinyl Decals
1. Place sticker face up on table or hard surface. Use squeegee, credit card or driver's license. Rub over surface. This will ensure the decal will stick to application tape when removing the backing. 2. Clean surface (outside of window) using window cleaner and preferably alcohol. Allow to dry. 3. Leaving the decal face down, carefully and slowly remove backing. If some of decal sticks to backing, re-attach and repeat step 1. 4. Apply decal from inward to outward. Make sure it is straight. 5. With squeegee, credit card or driver's license, rub once again. This will ensure decal will stay on window (or surface area applying it to). 6. Carefully remove application tape. Pull the tape back over itself. If bubbles appear, Squeeze them out to the edge, or puncture a pinhole and squeeze air out.
In stock
Available in our Zazzle Store – Our 4p- Word Collage Poster!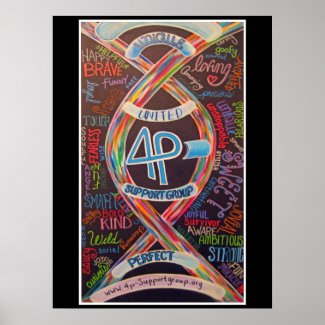 4p- Word Collage Poster
by
4pstore
View custom art
Posters
& Prints at online Zazzle
International Shipping Notice:
We are happy to ship orders to locations outside of the United States.
To insure international shipping charges are calculated correctly, please contact amanda@4p-supportgroup.org prior to placing your order.
***Items purchased via our Zazzle store do not require prior contact as they are sold and shipped directly through Zazzle.com.***
Visit our Zazzle Store for More Items!